Sake brewery tour
◆Future plans for Obata Sake Brewery tours (updated February 12, 2021)
【We look forward to welcoming you to our new type of sake brewery SHOP!】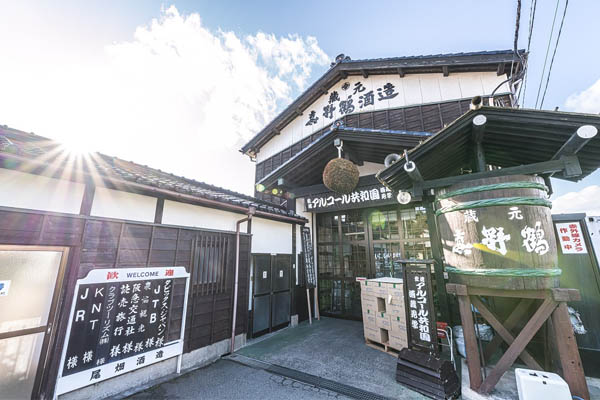 We appreciate the continuous use of our company.
We consider countermeasures against coronavirus and accept customers as follows.
◆◇◆  ◆◇◆  ◆◇◆  ◆◇◆
《Please use the front entrance to enjoy tasting at the sake server and shopping.》
For sanitation purposes, entering and leaving the building is done through the main entrance.
Business hours are from 9:00 a.m. to 4:00 p.m.
Sake tasting is basically served at the sake server.
In order to provide better products and services to our customers, and most importantly, for the safety of our customers and our employees, we are taking this action. We apologize for any inconvenience this may cause and appreciate your understanding.
◆◇◆  ◆◇◆  ◆◇◆  ◆◇◆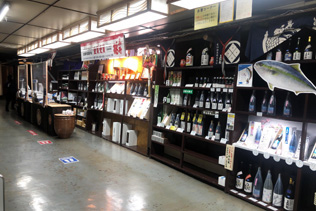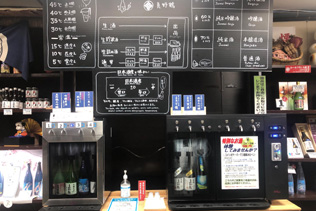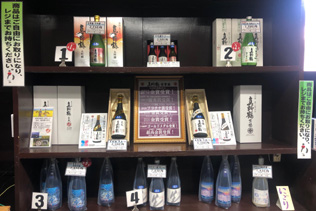 《Please review our changes and requests.》
■Business hours: Every day from 9:00 to 16:00
(After-hours services will be considered based on the details of the reservation, but are generally not available.)
■When visiting the brewery, please wear a mask, disinfect with alcohol, and check your temperature.
■Visitors with symptoms such as fever or severe coughing may be asked to refrain from admission.
■Please help us encourage disinfection before and after tasting and after shopping.
■For sanitation reasons, visitors are not allowed to tour and walk through the factory for the time being.
■Only one entrance is available: the entrance along the main national road.
■Parking is located at the back entrance of the brewery. You can walk to the main entrance from the parking lot (150-160 meters, no roof).
■For many visitors, please make reservations by phone (0259-55-3171). Admission may be limited. Please understand.
■Sake tasting:
We will serve you at the server (machine).
■Tasting:
Canceled for the time being.
■Sake brewing video explanation and information:
To prevent Three Cs during busy times, we will not be showing this video. We will always play the sake brewing video.
■Payment Method:
We accept money, credit cards, coupons, etc. at the tray.
◆◇◆  ◆◇◆  ◆◇◆  ◆◇◆
《We look forward to welcoming you, while striving to ensure the safety of our customers and our employees.》
In accordance with the recommendations of the national government, Niigata Prefecture, and administrative agencies, we will place the highest priority on preventing the spread of infection within and outside the company and ensuring the safety of our customers and employees.
We would appreciate your understanding that there is a possibility of sudden closure if the infection spreads or shows signs of spreading throughout Japan, the prefecture and Sado City.
We hope that the situation will be brought under control as soon as possible and that everyone will be able to relax and enjoy the environment.
Thank you for your continued support.
All the staff at OBATA SAKE BREWERY Co., Ltd.
---
Traffic Information
●Traffic Information
Traffic information: Approximately 30 minutes by car from Ryotsu Port and Ogi Port. By bus, get off at Mano Shinmachi stop, and walk about 5 minutes.
●For taxi users:
  ・Okesa Kanko Taxi TEL: 0259-57-2425    TEL: 0259−57−2425
Sado Sightseeing Map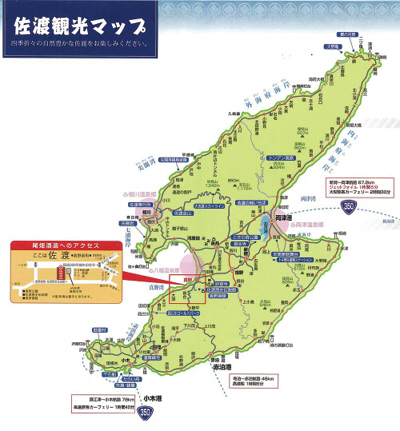 Click on the image to see a larger version.[PDF 2.43 MB ]